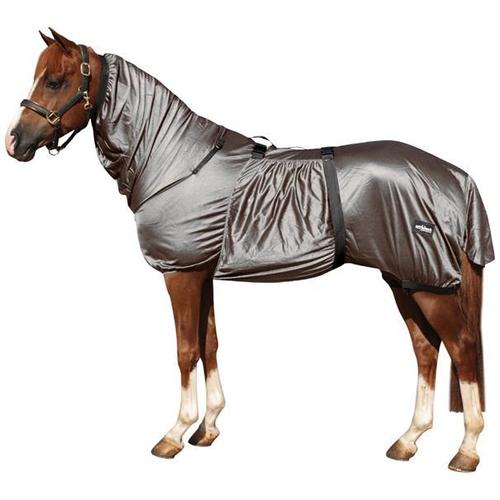 Eczema Rugs
Product Description
Eczema Rugs
Eczema Rugs, exported and manufactured by Kiron Trade Linkers are needed for the safe as well as all-round protection for horses. These are used for the horses who are suffering from eczema. The rugs are made from special breathable fabric of a wide belly flap. Eczema Rugs allow for ample freedom of movement. It has elastic insert on its neck as well as shoulder area. The rugs are provided with a fine mesh weave, doubled front fastening, kick pleat, leg straps, tail flap and fillet string. These are essentially needed to protect the horses against the summer eczema.
Such rugs for horses with summer eczema offer full protection from all kinds of flies. The horses are protected from UV radiation given to the addition of special UV reflective layer to the rugs. The coats are also prevented from discolouration.
Features:
These rugs are meant to provide complete head to tail protection.
These are ideal for horses with summer eczema.
These also protect horses from flies and other insects.
These are made using tough 1000 denier polyester.
The very fine mesh in the rugs make them ultra breathable.
The chest area of the rugs has a nylon lining that prevents irritation and ensures a healthy shine.
These are fitted perfectly on the chest with the help ofdouble adjustable quick snap closure.
These have full and extra long neck cover with Velcro closures.
The rugs also feature extra long belly flap with three straight surcingles for ideal fit.
These also include detachable leg straps, super size tail flap and fillet string.
Contact Us
Hc-23/A, Phase-VI, Focal Point, Ludhiana, Punjab, 141010, India
Phone :+918045475241