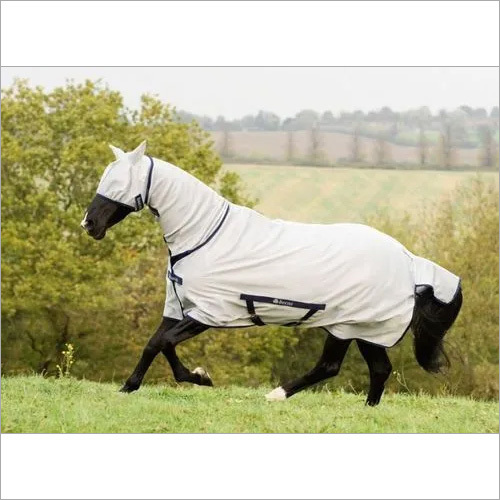 Lightweight Mesh
Product Description
Lightweight Mesh
Light weight mesh is a mesh fly sheet that ensures proper air circulation around the horse and keep him cool and no fly can agitate him anymore. This mesh also provides complete neck protection. The tail large flap cover on the mesh protects the tail, that is more prone to get attached by flies. The external cross surcingle on the lightweight mesh covers and protects the belly area. The features of this Freedom Fly rug are similar that of Freedom Turnout and Twill. The silk-feel lining on the mesh avoid rubbing on the mane,chest, whither and shoulders.
The Lightweight mesh allows for a faster healing & recovery. This is worn by horses to increase the blood flow, reduce inflammation and cure the soreness. It is simple to wear in a low to medium penetration. Offered is a lightweight mesh sheet, which is made to treat the arthritic discomfort, stiffness and muscle tightness, caused by and exertion or injury. Lightweight mesh is available with hind leg straps as well as surcingle closure. The meshes have shown benefits in comparison to heavyweight meshes, especially in the case of postoperative pain as well as stiffness of muscles.
This fly mask can be used on its own or along with the Freedom Fly Rug.
Some excellent features of this light in weight mesh are as follows:
Mesh fly fabric
Integrated neck (not removable)
Overlap T-bar front closure
Silk-feel lining on shoulders to prevent rubs
Cross surcingles
Leg straps
Tail flap
Fillet string
Contact Us
Hc-23/A, Phase-VI, Focal Point, Ludhiana, Punjab, 141010, India
Phone :+918045475241