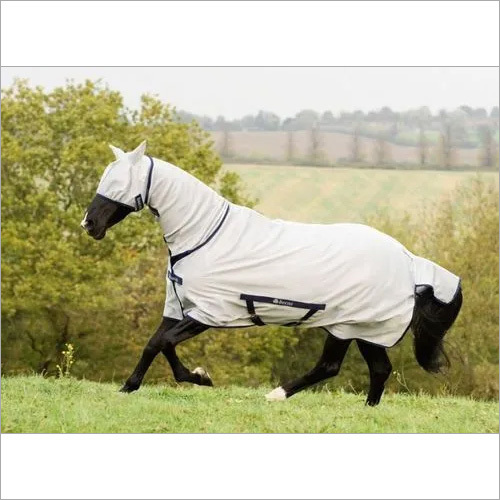 Lightweight Mesh
Product Description
Mesh fly Sheet is a lightweight mesh fly rug that allows air circulate around your horse to keep them cool and prevents flies from agitating them. Full neck protection
and a large tail large flap covers the areas prone to fly attacks and external cross surcingles help to protect the belly area. The Freedom Fly rug comes with the same features as the Freedom Turnout and Twill, like the fit and the overlap front closure with T-bar. It also has Silk-feel lining along the mane, whither, shoulders and chest to prevent any rubbing.
Â
The lightweight Fly Masks provide excellent protection and can be used with the Freedom Fly Rugs or on its own.
Â


1) Mesh fly fabric


2) Integrated neck (not removable)


3) Overlap T-bar front closure


4) Silk-feel lining on shoulders to prevent rubs


5) Cross surcingles


6) Leg straps


7) Tail flap


8) Fillet string
Contact Us
Hc-23/A, Phase-VI, Focal Point, Ludhiana, Punjab, 141010, India